Home
States
Colorado
Connecticut
Maine
Massachusetts
New Hampshire
New York
Rhode Island
Utah
Vermont
View All
Lists
NE 4,000 Footers
NE 100 Highest
NH 4,000 Footers
NH 100 Highest
NH 52 With A View
NH Belknap Range
NH Ossipee 10
Links
Search
Trail Conditions
Trip Log
Sunrises
Sunsets
About
Mt. Tecumseh
Waterville Valley, NH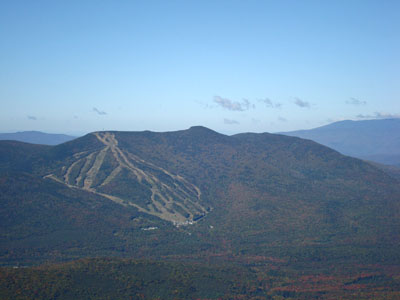 Mt. Tecumseh as seen from Middle Tripyramid


Summary
Mt. Tecumseh, home of the Waterville Valley Ski Area, is the smallest New Hampshire 4,000 foot peak. The wooded summit features a limited directional view of Mt. Tripyramid, as well as a few other vistas along trails just below it.

The Civilian Conservation Corps. first developed ski trails on Mt. Tecumseh in the 1930s. In 1966, the Waterville Valley Ski Area opened.

Summit Elevation
4,003 feet

Summit Facilities
None.

Trails
The most popular hiking route for Mt. Tecumseh is the eastern portion of the Mt. Tecumseh Trail, which ascends from parking lot #1 at Waterville Ski Area to the summit. The northwestern portion of the Mt. Tecumseh Trail ascends from Tripoli Road (closed to vehicles late fall through mid spring) to the summit. In addition, the Sosman Trail ascends to the summit from the top of the ski area. During the ski area's off season, some prefer to walk up the ski area's gravel access road to the Sosman Trail.

Trip Reports:
Click on the date for photos, timestamps, and maps.

Date of Hike
Trail(s)
Length
Steepness
Vertical
March 30, 2021
Mt. Tecumseh Trail, more
Moderate
Difficult
2,443'
February 28, 2021
Mt. Tecumseh Trail
Moderate
Difficult
2,393'
February 6, 2021
Mt. Tecumseh Trail
Moderate
Difficult
2,393'
December 24, 2020
Mt. Tecumseh Trail
Moderate
Difficult
2,433'
October 27, 2020
Mt. Tecumseh Trail, more
Moderate
Difficult
2,278'
October 14, 2020
Ski trails, more
Moderate
Difficult
2,183'
October 9, 2020
Ski trails, more
Moderate
Difficult
2,393'
September 27, 2020
Ski trails, more
Moderate
Difficult
2,495'
September 25, 2020
Ski trails, more
Moderate
Difficult
2,183'
September 11, 2020
Ski trails, more
Moderate
Difficult
2,183'
August 28, 2020
Ski trails, more
Moderate
Difficult
2,183'
August 26, 2020
Ski trails, more
Moderate
Difficult
2,183'
August 16, 2020
Ski trails, more
Moderate
Difficult
2,393'
August 7, 2020
Mt. Tecumseh Trail, more
Moderate
Difficult
2,443'
July 25, 2020
Ski trails, more
Moderate
Difficult
2,393'
July 15, 2020
Ski trails, more
Moderate
Difficult
2,393'
June 12, 2020
Mt. Tecumseh Trail, more
Moderate
Difficult
2,443'
April 19, 2020
Pipeline Trail, more
Moderate
Difficult
2,578'
October 26, 2019
Ski trails, more
Moderate
Difficult
2,278'
October 19, 2019
Ski trails, more
Moderate
Difficult
2,278'
September 28, 2019
Ski trails, more
Moderate
Difficult
2,495'
September 21, 2019
Mt. Tecumseh Trail, more
Moderate
Difficult
2,258'
September 1, 2019
Ski trails, more
Moderate
Difficult
2,183'
August 17, 2019
Ski trails, more
Moderate
Difficult
2,433'
August 10, 2019
Ski trails, more
Moderate
Difficult
2,183'
July 27, 2019
Ski trails, more
Moderate
Difficult
2,183'
July 5, 2019
Ski trails, more
Moderate
Difficult
2,183'
July 2, 2019
Ski trails, more
Moderate
Difficult
2,393'
June 28, 2019
Ski trails, more
Moderate
Difficult
2,183'
June 22, 2019
Ski trails, more
Moderate
Difficult
2,495'
June 15, 2019
Ski trails, more
Moderate
Difficult
2,393'
June 8, 2019
Ski trails, more
Moderate
Difficult
2,183'
April 24, 2019
Ski trails, more
Moderate
Difficult
2,393'
October 20, 2018
Mt. Tecumseh Trail
Moderate
Difficult
2,393'
October 12, 2018
Mt. Tecumseh Trail, more
Moderate
Difficult
2,278'
October 6, 2018
Ski trails, more
Moderate
Difficult
2,495'
September 29, 2018
Mt. Tecumseh Trail, more
Moderate
Difficult
2,278'
September 22, 2018
Ski trails, more
Moderate
Difficult
2,278'
September 8, 2018
Ski trails, more
Moderate
Difficult
2,278'
September 3, 2018
Ski trails, more
Moderate
Difficult
2,495'
September 1, 2018
Ski trails, more
Moderate
Difficult
2,278'
August 25, 2018
Ski trails, more
Moderate
Difficult
2,278'
August 21, 2018
Ski trails, more
Moderate
Difficult
2,183'
August 11, 2018
Ski trails, more
Moderate
Difficult
2,278'
July 21, 2018
Ski trails, more
Moderate
Difficult
2,183'
July 18, 2018
Ski trails, more
Moderate
Difficult
2,278'
July 7, 2018
Ski trails, more
Moderate
Difficult
2,183'
June 30, 2018
Ski trails, more
Moderate
Difficult
2,183'
June 22, 2018
Ski trails, more
Moderate
Difficult
2,278'
June 19, 2018
Ski trails, more
Moderate
Difficult
2,183'
June 16, 2018
Ski trails, more
Moderate
Difficult
2,495'
June 9, 2018
Ski trails, more
Moderate
Difficult
2,495'
June 2, 2018
Ski trails, more
Moderate
Difficult
2,583'
May 29, 2018
Ski trails, more
Moderate
Difficult
2,278'
May 27, 2018
Mt. Tecumseh Trail, more
Moderate
Difficult
2,433'
May 19, 2018
Access road, more
Moderate
Difficult
2,443'
April 2, 2018
Mt. Tecumseh Trail, more
Moderate
Difficult
2,278'
March 28, 2018
Mt. Tecumseh Trail, more
Moderate
Difficult
2,278'
February 25, 2018
Mt. Tecumseh Trail, more
Moderate
Difficult
2,278'
January 6, 2018
Mt. Tecumseh Trail, more
Moderate
Difficult
2,278'
October 31, 2017
Ski trails, more
Moderate
Difficult
2,408'
October 28, 2017
Ski trails, more
Moderate
Difficult
2,495'
October 22, 2017
Ski trails, more
Moderate
Difficult
2,278'
October 14, 2017
Ski trails, more
Moderate
Difficult
2,278'
October 13, 2017
Ski trails, more
Moderate
Difficult
2,183'
October 7, 2017
Ski trails, more
Moderate
Difficult
2,278'
October 4, 2017
Ski trails, more
Moderate
Difficult
2,278'
September 30, 2017
Ski trails, more
Moderate
Difficult
2,495'
September 28, 2017
Ski trails, more
Moderate
Difficult
2,278'
September 23, 2017
Mt. Tecumseh Trail, more
Moderate
Difficult
2,408'
September 21, 2017
Ski trails, more
Moderate
Difficult
2,278'
September 17, 2017
Ski trails, more
Moderate
Difficult
2,278'
September 9, 2017
Ski trails, more
Moderate
Difficult
2,183'
September 2, 2017
Ski trails, more
Moderate
Difficult
2,495'
August 26, 2017
Ski trails, more
Moderate
Difficult
2,278'
August 20, 2017
Ski trails, more
Moderate
Difficult
2,183'
August 19, 2017
Ski trails, more
Moderate
Difficult
2,558'
August 9, 2017
Ski trails, more
Moderate
Difficult
2,278'
July 28, 2017
Ski trails, more
Moderate
Difficult
2,278'
July 26, 2017
Ski trails, more
Moderate
Difficult
2,183'
July 15, 2017
Ski trails, more
Moderate
Difficult
2,495'
July 2, 2017
Pipeline Trail, more
Moderate
Difficult
2,578'
June 28, 2017
Ski trails, more
Moderate
Difficult
2,278'
June 24, 2017
Mt. Tecumseh Trail, more
Moderate
Difficult
2,278'
June 21, 2017
Ski trails, more
Moderate
Difficult
2,278'
June 17, 2017
Ski trails, more
Moderate
Difficult
2,278'
June 14, 2017
Ski trails, more
Moderate
Difficult
2,278'
June 10, 2017
Ski trails, more
Moderate
Difficult
2,495'
June 7, 2017
Ski trails, more
Moderate
Difficult
2,278'
June 3, 2017
Mt. Tecumseh Trail
Moderate
Difficult
2,393'
May 27, 2017
Ski trails, more
Moderate
Difficult
2,495'
May 23, 2017
Ski trails, more
Moderate
Difficult
2,278'
May 20, 2017
Mt. Tecumseh Trail, more
Moderate
Difficult
2,278'
May 12, 2017
Ski trails, more
Moderate
Difficult
2,495'
January 6, 2017
Ski trails, more
Moderate
Difficult
2,278'
December 10, 2016
Mt. Tecumseh Trail
Moderate
Difficult
2,393'
November 26, 2016
Mt. Tecumseh Trail
Moderate
Difficult
2,393'
November 13, 2016
Mt. Tecumseh Trail
Moderate
Difficult
2,393'
November 6, 2016
Ski trails, more
Moderate
Difficult
2,495'
October 23, 2016
Ski trails, more
Moderate
Difficult
2,495'
October 15, 2016
Ski trails, more
Moderate
Difficult
2,455'
October 8, 2016
Ski trails, more
Moderate
Difficult
2,183'
October 2, 2016
Ski trails, more
Moderate
Difficult
2,495'
September 24, 2016
Ski trails, more
Moderate
Difficult
2,495'
September 20, 2016
Ski trails, more
Moderate
Difficult
2,183'
September 17, 2016
Ski trails, more
Moderate
Difficult
2,495'
September 13, 2016
Ski trails, more
Moderate
Difficult
2,183'
September 8, 2016
Ski trails, more
Moderate
Difficult
2,278'
September 5, 2016
Ski trails, more
Moderate
Difficult
2,183'
September 3, 2016
Ski trails, more
Moderate
Difficult
2,278'
September 1, 2016
Ski trails, more
Moderate
Difficult
2,278'
August 27, 2016
Ski trails, more
Moderate
Difficult
2,278'
August 20, 2016
Mt. Tecumseh Trail, more
Moderate
Difficult
2,278'
August 18, 2016
Ski trails, more
Moderate
Difficult
2,278'
August 14, 2016
Mt. Tecumseh Trail, more
Moderate
Difficult
2,278'
August 11, 2016
Ski trails, more
Moderate
Difficult
2,183'
August 8, 2016
Ski trails, more
Moderate
Difficult
2,278'
August 5, 2016
Ski trails, more
Moderate
Difficult
2,278'
August 3, 2016
Ski trails, more
Moderate
Difficult
2,278'
July 23, 2016
Ski trails, more
Moderate
Difficult
2,278'
July 20, 2016
Ski trails, more
Moderate
Difficult
2,278'
July 16, 2016
Ski trails, more
Moderate
Difficult
2,183'
July 12, 2016
Ski trails, more
Moderate
Difficult
2,278'
July 8, 2016
Ski trails, more
Moderate
Difficult
2,183'
July 6, 2016
Ski trails, more
Moderate
Difficult
2,278'
July 4, 2016
Ski trails, more
Moderate
Difficult
2,183'
June 29, 2016
Mt. Tecumseh Trail, more
Moderate
Difficult
2,408'
June 26, 2016
Ski trails, more
Moderate
Difficult
2,278'
June 21, 2016
Ski trails, more
Moderate
Difficult
2,278'
June 16, 2016
Ski trails, more
Moderate
Difficult
2,278'
June 14, 2016
Ski trails, more
Moderate
Difficult
2,278'
June 11, 2016
Mt. Tecumseh Trail, more
Moderate
Difficult
2,278'
June 2, 2016
Ski trails, more
Moderate
Difficult
2,278'
May 31, 2016
Mt. Tecumseh Trail, more
Moderate
Difficult
2,298'
May 22, 2016
Mt. Tecumseh Trail, more
Moderate
Difficult
2,278'
April 23, 2016
Mt. Tecumseh Trail
Moderate
Difficult
2,393'
February 29, 2016
Mt. Tecumseh Trail, more
Moderate
Difficult
2,278'
December 30, 2015
Mt. Tecumseh Trail
Moderate
Difficult
2,393'
October 31, 2015
Ski trails, more
Moderate
Difficult
2,183'
October 25, 2015
Ski trails, more
Moderate
Difficult
2,183'
October 23, 2015
Ski trails, more
Moderate
Difficult
2,183'
October 17, 2015
Ski trails, more
Moderate
Difficult
2,363'
October 11, 2015
Ski trails, more
Moderate
Difficult
2,183'
October 7, 2015
Ski trails, more
Moderate
Difficult
2,183'
October 2, 2015
Ski trails, more
Moderate
Difficult
2,393'
September 27, 2015
Ski trails, more
Moderate
Difficult
2,183'
September 25, 2015
Ski trails, more
Moderate
Difficult
2,278'
September 19, 2015
Ski trails, more
Moderate
Difficult
2,183'
September 9, 2015
Ski trails, more
Moderate
Difficult
2,183'
September 5, 2015
Ski trails, more
Moderate
Difficult
2,183'
September 2, 2015
Ski trails, more
Moderate
Difficult
2,183'
August 30, 2015
Ski trails, more
Moderate
Difficult
2,183'
August 26, 2015
Ski trails, more
Moderate
Difficult
2,183'
August 20, 2015
Ski trails, more
Moderate
Difficult
2,278'
August 16, 2015
Ski trails, more
Moderate
Difficult
2,183'
August 14, 2015
Ski trails, more
Moderate
Difficult
2,278'
August 8, 2015
Mt. Tecumseh Trail, more
Moderate
Difficult
2,278'
August 5, 2015
Mt. Tecumseh Trail, more
Moderate
Difficult
2,278'
August 2, 2015
Ski trails, more
Moderate
Difficult
2,278'
July 31, 2015
Ski trails, more
Moderate
Difficult
2,278'
July 29, 2015
Ski trails, more
Moderate
Difficult
2,278'
July 25, 2015
Mt. Tecumseh Trail, more
Moderate
Difficult
2,183'
July 20, 2015
Ski trails, more
Moderate
Difficult
2,278'
July 17, 2015
Mt. Tecumseh Trail, more
Moderate
Difficult
2,183'
July 12, 2015
Mt. Tecumseh Trail, more
Moderate
Difficult
2,278'
July 5, 2015
Ski trails, more
Moderate
Difficult
2,278'
July 3, 2015
Ski trails, more
Moderate
Difficult
2,495'
June 25, 2015
Ski trails, more
Moderate
Difficult
2,278'
June 22, 2015
Ski trails, more
Moderate
Difficult
2,278'
June 20, 2015
Ski trails, more
Moderate
Difficult
2,278'
June 17, 2015
Ski trails, more
Moderate
Difficult
2,278'
June 13, 2015
Ski trails, more
Moderate
Difficult
2,278'
June 7, 2015
Ski trails, more
Moderate
Difficult
2,278'
June 4, 2015
Ski trails, more
Moderate
Difficult
2,278'
May 29, 2015
Ski trails, more
Moderate
Difficult
2,278'
May 24, 2015
Mt. Tecumseh Trail, more
Moderate
Difficult
2,393'
March 25, 2014
Ski trails, more
Moderate
Difficult
2,298'
March 23, 2014
Mt. Tecumseh Trail, more
Moderate
Difficult
2,298'
December 16, 2014
Mt. Tecumseh Trail
Moderate
Difficult
2,393'
November 5, 2014
Mt. Tecumseh Trail, more
Moderate
Difficult
2,298'
October 26, 2014
Mt. Tecumseh Trail, more
Moderate
Difficult
2,298'
October 19, 2014
Ski trails, more
Moderate
Difficult
2,183'
October 15, 2014
Ski trails, more
Moderate
Difficult
2,183'
October 10, 2014
Ski trails, more
Moderate
Difficult
2,278'
October 8, 2014
Mt. Tecumseh Trail, more
Moderate
Difficult
2,408'
October 2, 2014
Ski trails, more
Moderate
Difficult
2,278'
September 28, 2014
Ski trails, more
Moderate
Difficult
2,183'
September 24, 2014
Ski trails, more
Moderate
Difficult
2,278'
September 21, 2014
Ski trails, more
Moderate
Difficult
2,363'
September 19, 2014
Mt. Tecumseh Trail, more
Moderate
Difficult
2,408'
September 17, 2014
Ski trails, more
Moderate
Difficult
2,183'
September 13, 2014
Mt. Tecumseh Trail, more
Moderate
Difficult
2,433'
September 10, 2014
Mt. Tecumseh Trail, more
Moderate
Difficult
2,278'
September 6, 2014
Ski trails, more
Moderate
Difficult
2,333'
September 4, 2014
Ski trails, more
Moderate
Difficult
2,333'
August 31, 2014
Ski trails, more
Moderate
Difficult
2,183'
August 29, 2014
Ski trails, more
Moderate
Difficult
2,183'
August 24, 2014
Ski trails, more
Moderate
Difficult
2,183'
August 20, 2014
Access road, more
Moderate
Difficult
2,443'
August 17, 2014
Ski trails, more
Moderate
Difficult
2,183'
August 15, 2014
Mt. Tecumseh Trail, more
Moderate
Difficult
2,278'
August 11, 2014
Ski trails, more
Moderate
Difficult
2,495'
August 6, 2014
Ski trails, more
Moderate
Difficult
2,183'
August 3, 2014
Ski trails, more
Moderate
Difficult
2,183'
July 20, 2014
Mt. Tecumseh Trail, more
Moderate
Difficult
2,278'
July 4, 2014
Access road, more
Moderate
Difficult
2,443'
June 26, 2014
Mt. Tecumseh Trail, more
Moderate
Difficult
2,433'
June 22, 2014
Mt. Tecumseh Trail, more
Moderate
Difficult
2,393'
June 15, 2014
Mt. Tecumseh Trail, more
Moderate
Difficult
2,393'
June 8, 2014
Welch-Dickey Loop Trail, more
Difficult
Difficult
3,720'
May 26, 2014
Mt. Tecumseh Trail, more
Moderate
Difficult
2,433'
April 20, 2014
Ski trails, more
Moderate
Difficult
2,423'
March 17, 2014
Mt. Tecumseh Trail, more
Moderate
Difficult
2,298'
December 4, 2013
Mt. Tecumseh Trail, more
Moderate
Difficult
2,408'
November 23, 2013
Mt. Tecumseh Trail, more
Moderate
Difficult
2,433'
October 27, 2013
Ski trails, more
Moderate
Difficult
2,363'
October 9, 2013
Mt. Tecumseh Trail, more
Moderate
Difficult
2,433'
September 29, 2013
Mt. Tecumseh Trail, more
Moderate
Difficult
2,433'
September 26, 2013
Ski trails, more
Moderate
Difficult
2,183'
September 22, 2013
Access road, more
Moderate
Difficult
2,363'
September 18, 2013
Mt. Tecumseh Trail, more
Moderate
Difficult
2,298'
September 14, 2013
Mt. Tecumseh Trail, more
Moderate
Difficult
2,433'
September 13, 2013
Mt. Tecumseh Trail, more
Moderate
Difficult
2,298'
September 9, 2013
Ski trails, more
Moderate
Difficult
2,183'
September 5, 2013
Ski trails, more
Moderate
Difficult
2,183'
September 1, 2013
Access road, more
Moderate
Difficult
2,363'
August 31, 2013
Mt. Tecumseh Trail, more
Moderate
Difficult
2,278'
August 11, 2013
Mt. Tecumseh Trail, more
Moderate
Difficult
2,278'
July 28, 2013
Access road, more
Moderate
Difficult
2,363'
June 30, 2013
Mt. Tecumseh Trail, more
Moderate
Difficult
2,298'
June 8, 2013
Access road, more
Moderate
Difficult
2,363'
June 2, 2013
Mt. Tecumseh Trail, more
Moderate
Difficult
2,298'
May 13, 2013
Ski trails, more
Moderate
Difficult
2,278'
April 25, 2013
Ski trails, more
Moderate
Difficult
2,423'
April 15, 2013
Ski trails, more
Moderate
Difficult
2,278'
April 8, 2013
Mt. Tecumseh Trail, more
Moderate
Difficult
2,298'
March 2, 2013
Mt. Tecumseh Trail, more
Moderate
Difficult
2,433'
December 16, 2012
Mt. Tecumseh Trail, more
Moderate
Difficult
2,298'
October 31, 2012
Access road, more
Moderate
Difficult
2,443'
October 23, 2012
Ski trails, more
Moderate
Difficult
2,203'
October 22, 2012
Ski trails, more
Moderate
Difficult
2,203'
October 19, 2012
Ski trails, more
Moderate
Difficult
2,333'
October 16, 2012
Ski trails, more
Moderate
Difficult
2,278'
September 15, 2012
Ski trails, more
Moderate
Difficult
2,278'
August 20, 2012
Ski trails, more
Moderate
Difficult
2,278'
August 4, 2012
Ski trails, more
Moderate
Difficult
2,278'
August 1, 2012
Ski trails, more
Moderate
Difficult
2,278'
June 11, 2012
Ski trails, more
Moderate
Difficult
2,278'
June 3, 2012
Access road, more
Moderate
Difficult
2,363'
May 28, 2012
Access road, more
Moderate
Difficult
2,333'
May 18, 2012
Mt. Tecumseh Trail, more
Moderate
Difficult
2,308'
May 6, 2012
Ski trails, more
Moderate
Difficult
2,213'
May 3, 2012
Ski trails, more
Moderate
Difficult
2,213'
April 30, 2012
Ski trails, more
Moderate
Difficult
2,183'
April 28, 2012
Mt. Tecumseh Trail, more
Moderate
Difficult
2,298'
April 26, 2012
Mt. Tecumseh Trail, more
Moderate
Difficult
2,408'
April 16, 2012
Mt. Tecumseh Trail, more
Moderate
Difficult
2,408'
April 14, 2012
Ski trails, more
Moderate
Difficult
2,278'
April 9, 2012
Ski trails, more
Moderate
Difficult
2,183'
April 6, 2012
Ski trails, more
Moderate
Difficult
2,278'
March 31, 2012
Mt. Tecumseh Trail, more
Moderate
Difficult
2,408'
March 16, 2012
Mt. Tecumseh Trail, more
Moderate
Difficult
2,298'
March 1, 2012
Mt. Tecumseh Trail, more
Moderate
Difficult
2,298'
February 24, 2012
Ski trails, more
Moderate
Difficult
2,183'
February 3, 2012
Mt. Tecumseh Trail, more
Moderate
Difficult
2,298'
January 27, 2012
Mt. Tecumseh Trail, more
Moderate
Difficult
2,308'
January 12, 2012
Ski trails, more
Moderate
Difficult
2,183'
December 16, 2011
Mt. Tecumseh Trail, more
Moderate
Difficult
2,333'
December 14, 2011
Ski trails, more
Moderate
Difficult
2,203'
December 11, 2011
Ski trails, more
Moderate
Difficult
2,203'
December 4, 2011
Ski trails, more
Moderate
Difficult
2,308'
November 28, 2011
Ski trails, more
Moderate
Difficult
2,183'
November 23, 2011
Ski trails, more
Moderate
Difficult
2,363'
November 21, 2011
Ski trails, more
Moderate
Difficult
2,203'
October 30, 2011
Mt. Tecumseh Trail, more
Moderate
Difficult
2,423'
October 18, 2011
Mt. Tecumseh Trail, more
Moderate
Difficult
2,423'
October 9, 2011
Access road, more
Moderate
Difficult
2,363'
October 1, 2011
Access road, more
Moderate
Difficult
2,363'
September 24, 2011
Mt. Tecumseh Trail, more
Moderate
Difficult
2,308'
September 21, 2011
Ski trails, more
Moderate
Difficult
2,213'
September 17, 2011
Ski trails, more
Moderate
Difficult
2,308'
September 10, 2011
Ski trails, more
Moderate
Difficult
2,213'
September 7, 2011
Ski trails, more
Moderate
Difficult
2,213'
September 6, 2011
Ski trails, more
Moderate
Difficult
2,213'
September 3, 2011
Mt. Tecumseh Trail, more
Moderate
Difficult
2,258'
August 29, 2011
Access road, more
Moderate
Difficult
2,443'
August 25, 2011
Ski trails, more
Moderate
Difficult
2,203'
August 21, 2011
Access road, more
Moderate
Difficult
2,363'
August 14, 2011
Ski trails, more
Moderate
Difficult
2,183'
August 7, 2011
Mt. Tecumseh Trail, more
Moderate
Difficult
2,393'
August 4, 2011
Ski trails, more
Moderate
Difficult
2,203'
July 29, 2011
Ski trails, more
Moderate
Difficult
2,203'
July 18, 2011
Ski trails, more
Moderate
Difficult
2,203'
July 13, 2011
Ski trails, more
Moderate
Difficult
2,203'
July 4, 2011
Access road, more
Moderate
Difficult
2,333'
June 25, 2011
Mt. Tecumseh Trail, more
Moderate
Difficult
2,308'
June 18, 2011
Mt. Tecumseh Trail, more
Moderate
Difficult
2,593'
June 11, 2011
Mt. Tecumseh Trail, more
Moderate
Difficult
2,298'
June 7, 2011
Ski trails, more
Moderate
Difficult
2,183'
June 1, 2011
Ski trails, more
Moderate
Difficult
2,278'
May 27, 2011
Ski trails, more
Moderate
Difficult
2,203'
May 11, 2011
Mt. Tecumseh Trail, more
Moderate
Difficult
2,393'
May 10, 2011
Ski trails, more
Moderate
Difficult
2,183'
April 24, 2011
Mt. Tecumseh Trail, more
Moderate
Difficult
2,278'
April 19, 2011
Mt. Tecumseh Trail, more
Moderate
Difficult
2,278'
March 24, 2011
Ski trails, more
Moderate
Difficult
2,183'
March 23, 2011
Mt. Tecumseh Trail, more
Moderate
Difficult
2,433'
January 10, 2011
Ski trails, more
Moderate
Difficult
2,183'
January 28, 2010
Ski trails, more
Moderate
Difficult
2,183'
October 28, 2009
Ski trails, more
Moderate
Difficult
2,183'
August 19, 2009
Mt. Tecumseh Trail
Moderate
Difficult
2,433'
June 12, 2009
Ski trails, more
Moderate
Difficult
2,183'
March 19, 2009
Ski trails, more
Moderate
Difficult
2,193'
February 8, 2009
Ski trails, more
Moderate
Difficult
2,193'
November 8, 2008
Mt. Tecumseh Trail
Moderate
Difficult
2,615'
September 29, 2008
Ski trails, more
Moderate
Difficult
2,183'
July 22, 2008
Ski trails, more
Moderate
Difficult
2,183'
April 17, 2008
Ski trails, more
Moderate
Difficult
2,183'
December 25, 2007
Mt. Tecumseh Trail, more
Moderate
Difficult
2,298'
May 25, 2007
Mt. Tecumseh Trail, more
Moderate
Difficult
2,408'
More Information