Home
States
Colorado
Connecticut
Maine
Massachusetts
New Hampshire
New York
Rhode Island
Utah
Vermont
View All
Lists
NE 4,000 Footers
NE 100 Highest
NH 4,000 Footers
NH 100 Highest
NH 52 With A View
NH Belknap Range
NH Ossipee 10
Links
Trail Conditions
Trip Log
Sunrises
Sunsets
About
Belknap Mountain
Gilford, NH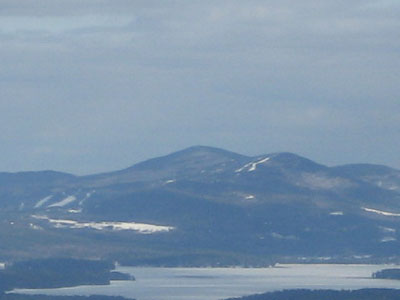 Belknap Mountain as seen from Red Hill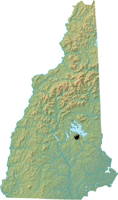 Summary
Belknap Mountain is the highest point in Belknap County. While the summit is viewless, the fire tower/observation deck (just below the cab) has views in all directions.

On June 18, 1972, a Piper airplane departing from the Laconia airport en route to Great Barrington, MA, went missing in poor weather conditions. Nearly a year later, a few local residents decided to hike up to a shining object they had seen from below. On June 3, 1972, the bodies of the two on board the plane were recovered when the crash site was discovered.

The crash site remains relatively in tact today.

Summit Elevation
2,382 feet

Summit Facilities
Firetower.

Relics
1972 Piper plane wreck on upper northeast slope.

Trip Reports:
Click on the date for photos, timestamps, and maps.

Date of Hike
Trail(s)
Length
Steepness
Vertical
May 10, 2021
Gunstock Mountain Trail, more
Moderate
Moderate
1,682'
July 10, 2019
Gunstock Mountain Trail, more
Moderate
Moderate
1,682'
October 19, 2018
Green Trail, more
Moderate
Difficult
1,422'
August 2, 2018
Gunstock Mountain Trail, more
Moderate
Moderate
1,682'
May 31, 2018
Gunstock Mountain Trail, more
Moderate
Moderate
1,682'
May 16, 2018
Piper Mountain Trail, more
Moderate
Moderate
2,011'
August 8, 2017
Gunstock Mountain Trail, more
Moderate
Moderate
2,011'
July 5, 2017
Wardens Trail, more
Moderate
Difficult
722'
June 20, 2017
Gunstock Mountain Trail, more
Moderate
Moderate
1,682'
December 4, 2016
Round Pond Trail, more
Moderate
Difficult
2,524'
October 29, 2016
Gunstock Mountain Trail, more
Moderate
Moderate
1,682'
October 7, 2016
Blue Trail, more
Moderate
Difficult
1,412'
September 7, 2016
Carriage Road, more
Moderate
Moderate
1,682'
August 15, 2016
Gunstock Mountain Trail, more
Moderate
Moderate
2,011'
June 22, 2016
Carriage Road, more
Moderate
Moderate
1,682'
June 7, 2016
Gunstock Mountain Trail, more
Moderate
Moderate
1,682'
May 27, 2016
Gunstock Mountain Trail, more
Moderate
Moderate
1,682'
May 19, 2016
Piper Mountain Trail, more
Moderate
Difficult
1,686'
May 8, 2016
Gunstock Mountain Trail, more
Moderate
Moderate
1,682'
March 31, 2016
Gunstock Mountain Trail, more
Moderate
Moderate
2,011'
February 2, 2016
Gunstock Mountain Trail, more
Moderate
Moderate
1,682'
November 7, 2015
Red Trail, more
Moderate
Difficult
722'
October 27, 2015
Red Trail
Moderate
Difficult
722'
October 15, 2015
Red Trail
Moderate
Difficult
722'
October 12, 2015
Gunstock Mountain Trail, more
Moderate
Moderate
2,011'
October 1, 2015
Red Trail
Moderate
Difficult
722'
October 1, 2015
Red Trail
Moderate
Difficult
722'
September 23, 2015
Red Trail
Moderate
Difficult
722'
September 14, 2015
Red Trail
Moderate
Difficult
722'
September 4, 2015
Blue Trail
Moderate
Moderate
727'
August 28, 2015
Blue Trail
Moderate
Moderate
742'
August 22, 2015
Blue Trail
Moderate
Moderate
722'
August 18, 2015
Red Trail
Moderate
Difficult
722'
August 15, 2015
White Trail, more
Moderate
Moderate
822'
August 12, 2015
Red Trail
Moderate
Difficult
722'
August 4, 2015
Boulder Trail, more
Moderate
Difficult
1,817'
July 28, 2015
Red Trail
Moderate
Difficult
722'
July 22, 2015
Red Trail
Moderate
Difficult
722'
July 15, 2015
Red Trail
Moderate
Difficult
722'
July 10, 2015
Blue Trail
Moderate
Moderate
722'
July 8, 2015
Red Trail
Moderate
Difficult
722'
June 30, 2015
Green Trail, more
Moderate
Difficult
722'
June 27, 2015
Red Trail, more
Moderate
Difficult
722'
June 16, 2015
Red Trail
Moderate
Difficult
722'
June 11, 2015
Red Trail
Moderate
Difficult
722'
June 10, 2015
Piper-Round Pond Link, more
Moderate
Difficult
1,292'
May 27, 2015
Piper Mountain Trail, more
Moderate
Difficult
1,686'
May 26, 2015
Red Trail
Moderate
Difficult
722'
May 22, 2015
Green Trail, more
Moderate
Difficult
722'
May 20, 2015
Red Trail
Moderate
Difficult
722'
May 17, 2015
Red Trail
Moderate
Difficult
722'
May 12, 2015
Red Trail
Moderate
Difficult
722'
May 8, 2015
Green Trail, more
Moderate
Difficult
722'
April 30, 2015
Gunstock Mountain Trail, more
Moderate
Moderate
1,682'
April 1, 2015
Green Trail, more
Moderate
Difficult
1,412'
March 17, 2015
Red Trail, more
Moderate
Difficult
1,412'
October 20, 2014
Round Pond Trail, more
Moderate
Difficult
1,622'
September 19, 2014
Gunstock Mountain Trail, more
Moderate
Moderate
1,682'
August 9, 2014
Red Trail, more
Moderate
Difficult
722'
July 29, 2014
Red Trail
Moderate
Difficult
722'
July 25, 2014
Red Trail
Moderate
Difficult
722'
July 17, 2014
Red Trail
Moderate
Difficult
722'
July 12, 2014
Green Trail, more
Moderate
Difficult
722'
July 9, 2014
Red Trail, more
Moderate
Difficult
722'
July 6, 2014
Red Trail
Moderate
Difficult
722'
July 1, 2014
Red Trail
Moderate
Difficult
722'
June 28, 2014
Red Trail, more
Moderate
Difficult
742'
June 24, 2014
Red Trail, more
Moderate
Difficult
742'
June 23, 2014
Piper Mountain Trail, more
Moderate
Difficult
1,686'
June 14, 2014
Red Trail, more
Moderate
Moderate
742'
May 24, 2014
Red Trail, more
Moderate
Difficult
722'
November 1, 2013
Piper Mountain Trail, more
Moderate
Difficult
1,686'
October 26, 2013
Blue Trail
Moderate
Moderate
742'
September 4, 2013
Piper Mountain Trail, more
Moderate
Difficult
1,966'
July 16, 2013
Gunstock Mountain Trail, more
Moderate
Moderate
1,682'
June 20, 2013
Piper Mountain Trail, more
Moderate
Difficult
1,676'
May 31, 2012
Piper Mountain Trail, more
Moderate
Difficult
1,746'
April 21, 2011
Gunstock Mountain Trail, more
Moderate
Moderate
1,682'
July 1, 2010
Red Trail, more
Moderate
Difficult
897'
April 11, 2009
Gunstock Mountain Trail, more
Moderate
Moderate
2,011'
December 20, 2008
Gunstock Mountain Trail, more
Moderate
Moderate
1,682'
July 29, 2008
East Gilford Trail, more
Moderate
Difficult
1,624'
November 23, 2007
Various
Moderate
Difficult
1,817'
April 13, 2007
Green Trail, more
Moderate
Moderate
1,412'

More Information
- Belknap Range List
- Belknap Mountain - Wikipedia
- Belknap - NHMountainHiking.com
- NYC72AN158 - NTSB.gov - 1972 Piper Accident Report