Home
States
Colorado
Connecticut
Maine
Massachusetts
New Hampshire
New York
Rhode Island
Utah
Vermont
View All
Lists
NE 4,000 Footers
NE 100 Highest
NH 4,000 Footers
NH 100 Highest
NH 52 With A View
NH Belknap Range
NH Ossipee 10
Links
Trail Conditions
Trip Log
Sunrises
Sunsets
About
New Hampshire Trailwrights 72 Summits (72)
Per Trailwrights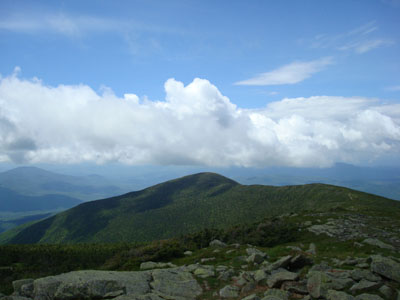 Summary

The Trailwrights 72 list includes all of the New Hampshire 4,000 Footers as well as 24 nearby peaks. Unlike the AMC New Hampshire 4,000 Footer list, only one peak can be counted per hike toward the Trailwrights 72 list.

Those who complete the list, adhere to the rules, and conduct 72 hours of Trailwrights sanctioned trail maintenance may apply for a patch and scroll.



Mountain Profiles

Click on the name of the mountain or peak for maps, photos, and more.
6,000 Feet (1)
5,000 Feet (14)
| | | |
| --- | --- | --- |
| Mt. Adams | Thompson and Meserve's Purchase, NH | 5,774' |
| Mt. Jefferson | Thompson and Meserve's Purchase, NH | 5,712' |
| Sam Adams | NH | 5,551' |
| Mt. Reagan | Thompson and Meserve's Purchase, NH | 5,533' |
| Boott Spur | Sargent's Purchase, NH | 5,500' |
| Mt. Quincy Adams | Thompson and Meserve's Purchase, NH | 5,410' |
| Mt. Monroe | Sargent's Purchase, NH | 5,372' |
| Mt. Madison | Low and Burbank's Grant, NH | 5,367' |
| Adams 4 | Thompson and Meserve's Purchase, NH | 5,344' |
| Adams 5 | NH | 5,266' |
| Mt. Lafayette | Franconia, NH | 5,260' |
| Mt. Lincoln | Franconia, NH | 5,089' |
| Mt. Franklin | Sargent's Purchase, NH | 5,004' |
| Mt. Truman | Franconia, NH | 5,000' |
4,000 Feet (57)
| | | |
| --- | --- | --- |
| South Twin Mountain | Franconia, NH | 4,902' |
| Carter Dome | Bean's Purchase, NH | 4,832' |
| Gulf Peak | Sargent's Purchase, NH | 4,806' |
| Mt. Moosilauke | Benton, NH | 4,802' |
| Mt. Eisenhower | Chandler's Purchase, NH | 4,780' |
| Little Haystack Mountain | Franconia, NH | 4,780' |
| North Twin Mountain | Franconia, NH | 4,761' |
| Mt. Carrigain | Livermore, NH | 4,700' |
| Mt. Bond | Lincoln, NH | 4,698' |
| Mt. Hight | Bean's Purchase, NH | 4,675' |
| Middle Carter Mountain | Bean's Purchase, NH | 4,610' |
| Mt. Lethe | Bean's Purchase, NH | 4,584' |
| Mt. Guyot | Lincoln, NH | 4,580' |
| Mt. Bond (West Peak) | Lincoln, NH | 4,540' |
| North Carter Mountain | Bean's Purchase, NH | 4,530' |
| Mt. Blue | Benton, NH | 4,529' |
| Mt. Moosilauke (South Peak) | Benton, NH | 4,523' |
| Mt. Garfield | Franconia, NH | 4,500' |
| Mt. Liberty | Lincoln, NH | 4,459' |
| South Carter Mountain | Bean's Purchase, NH | 4,430' |
| Wildcat A | Bean's Grant, NH | 4,422' |
| Mt. Hancock (North Peak) | Lincoln, NH | 4,420' |
| Kinsman Mountain (South Peak) | Lincoln, NH | 4,358' |
| Southwest Twin | NH | 4,357' |
| Mt. Field | Bethlehem, NH | 4,340' |
| Mt. Osceola | Livermore, NH | 4,340' |
| Mt. Flume | Lincoln, NH | 4,328' |
| Mt. Hancock (South Peak) | Lincoln, NH | 4,319' |
| Mt. Pierce | Bean's Grant, NH | 4,310' |
| Kinsman Mountain (North Peak) | Lincoln, NH | 4,293' |
| Mt. Isolation (North Peak) | Cutts Grant, NH | 4,293' |
| Wildcat C | Bean's Grant, NH | 4,285' |
| Mt. Willey | Bethlehem, NH | 4,285' |
| Bondcliff | Lincoln, NH | 4,265' |
| Zealand Mountain | Lincoln, NH | 4,260' |
| Middle Osceola | NH | 4,200' |
| Mt. Tripyramid (North Peak) | Waterville Valley, NH | 4,180' |
| Mt. Jim | Woodstock, NH | 4,172' |
| Mt. Cabot | Kilkenny, NH | 4,170' |
| Mt. Osceola (East Peak) | Livermore, NH | 4,156' |
| Mt. Tripyramid (Middle Peak) | Waterville Valley, NH | 4,140' |
| West Osceola | NH | 4,114' |
| Cannon Mountain | Franconia, NH | 4,100' |
| Mt. Tripyramid (South Peak) | Waterville Valley, NH | 4,080' |
| Wildcat D | Bean's Grant, NH | 4,062' |
| Mt. Hale | Bethlehem, NH | 4,054' |
| Mt. Jackson | Bean's Grant, NH | 4,052' |
| Mt. Tom | Bethlehem, NH | 4,051' |
| Mt. Moriah | Bean's Purchase, NH | 4,049' |
| Mt. Passaconaway | Waterville Valley, NH | 4,043' |
| Owl's Head | Franconia, NH | 4,025' |
| Galehead | Franconia, NH | 4,024' |
| Northwest Hancock | NH | 4,020' |
| Mt. Whiteface | Waterville Valley, NH | 4,020' |
| Mt. Waumbek | Kilkenny, NH | 4,006' |
| Mt. Isolation | Sargent's Purchase, NH | 4,004' |
| Mt. Tecumseh | Waterville Valley, NH | 4,003' |