Home
States
Colorado
Connecticut
Maine
Massachusetts
New Hampshire
New York
Rhode Island
Utah
Vermont
View All
Lists
NE 4,000 Footers
NE 100 Highest
NH 4,000 Footers
NH 100 Highest
NH 52 With A View
NH Belknap Range
NH Ossipee 10
Links
Trail Conditions
Trip Log
Sunrises
Sunsets
About
Maine Mountains & Peaks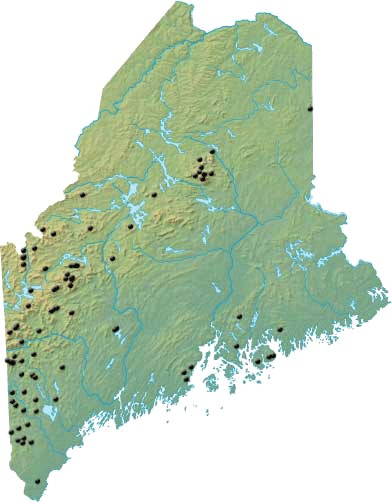 Summary

Maine is home to a wide variety of mountains, ranging from the eastern White Mountains to the peaks of the Rangeley area to the remote Baxter State Park. Within these regions lie 14 of New England's 4,000 foot peaks.



State High Point

Mt. Katahdin - Baxter Peak at 5,267 feet.



Map

View Google Map of peaks on this page.



Mountain Profiles

Click on the name of the mountain or peak for maps, photos, and more.
Southern Maine
Cumberland County
York County
| | | |
| --- | --- | --- |
| Abbott Mountain | Shapleigh, ME | 1,078' |
| Mt. Agamenticus | York, ME | 691' |
| Bond Mountain | Newfield, ME | 941' |
| Hosac Mountain | Cornish, ME | 1,320' |
| Ossipee Hill | Waterboro, ME | 1,058' |
| Picket Mountain | Newfield, ME | 850' |
| Province Mountain | Newfield, ME | 1,176' |
| Randall Mountain | Parsonsfield, ME | 1,110' |
| Sawyer Mountain | Limington, ME | 1,200' |
| Wiggin Mountain | Parsonsfield, ME | 1,305' |
Western Maine

Franklin County
| | | |
| --- | --- | --- |
| Mt. Abraham | Mt. Abraham, ME | 4,050' |
| Bald Mountain | Rangeley, ME | 2,470' |
| Bigelow Mountain (South Horn) | Wyman, ME | 3,805' |
| Mt. Blue | Avon, ME | 3,187' |
| Burnt Hill | Carrabasset Valley, ME | 3,609' |
| Caribou Mountain | T1 R7, ME | 3,650' |
| Crocker Mountain | Carrabasset Valley, ME | 4,228' |
| South Crocker Mountain | Carrabasset Valley, ME | 4,050' |
| Jackson Mountain | North of Weld, ME | 3,568' |
| Little Jackson Mountain | North of Weld, ME | 3,470' |
| Kennebago Divide | Seven Ponds, ME | 3,775' |
| East Kennebago Mountain | Tim Pond, ME | 3,791' |
| Kibby Mountain | T2 R7, ME | 3,654' |
| Morrison Hill | Farmington, ME | 712' |
| Mt. Redington | Redington, ME | 4,010' |
| Saddleback Mountain | Sandy River, ME | 4,116' |
| Saddleback Mountain - The Horn | Madrid, ME | 4,041' |
| Snow Mountain | Alder Stream, ME | 3,960' |
| Spaulding Mountain | Mt. Abraham, ME | 4,010' |
| Sugarloaf Mountain | Carrabassett Valley, ME | 4,250' |
| Tumbledown Mountain | North of Weld, ME | 3,090' |
| Tumbledown Mountain - West Peak | North of Weld, ME | 3,068' |
| White Cap Mountain | Seven Ponds, ME | 3,856' |
Oxford County
| | | |
| --- | --- | --- |
| Mt. Abram | Greenwood, ME | 1,990' |
| Adams Mountain | Stoneham, ME | 1,690' |
| Albany Mountain | Albany, ME | 1,930' |
| Bald Mountain | Woodstock, ME | 1,692' |
| Baldpate Mountain - East Peak | Grafton, ME | 3,780' |
| Baldpate Mountain - West Peak | Grafton, ME | 3,662' |
| Barker Mountain | Newry, ME | 2,594' |
| Big Bald Peak | Denmark, ME | 1,932' |
| Black Mountain | Rumford, ME | 2,350' |
| Blueberry Mountain | Stoneham, ME | 1,781' |
| Boundary Peak | Oxbow, ME | 3,855' |
| Burnt Meadow Mountain | Brownfield, ME | 1,575' |
| Butters Mountain | Mason, ME | 2,246' |
| Caribou Mountain | Mason, ME | 2,840' |
| Mt. Carlo | Riley, ME | 3,565' |
| Mt. Cutler | Hiram, ME | 1,232' |
| Deer Hill | Stow, ME | 1,367' |
| Little Deer Hill | Stow, ME | 1,090' |
| Durgin Mountain | Mason, ME | 2,404' |
| Elephant Mountain | Township C, ME | 3,772' |
| Goose Eye Mountain | Riley, ME | 3,870' |
| Hawk Mountain | Waterford, ME | 1,061' |
| Jockey Cap | Fryeburg, ME | 600' |
| Lord Hill | Stoneham, ME | 1,257' |
| Low Aziscohos Mountain | Lincoln Plantation, ME | 3,190' |
| Mahoosuc Arm | Grafton, ME | 3,765' |
| Merrill Hill | Newry, ME | 1,914' |
| Observatory Mountain | Lincoln Plantation, ME | 2,530' |
| Old Speck Mountain | Grafton, ME | 4,180' |
| Peary Mountain | Brownfield, ME | 958' |
| Pine Hill | Lovell, ME | 1,250' |
| Pleasant Mountain | Denmark, ME | 2,006' |
| Red Rock Mountain | Mason, ME | 2,141' |
| The Roost | Batchelder's Grant, ME | 1,374' |
| Round Mountain | Albany, ME | 1,827' |
| East Royce Mountain | Batchelder's Grant, ME | 3,114' |
| Sabattus Mountain | Lovell, ME | 1,253' |
| Snow Mountain | Upper Cupsuptic, ME | 3,784' |
| Speckled Mountain | Stoneham, ME | 2,906' |
| Speckled Mountain | Peru, ME | 2,183' |
| Spruce Hill | Batchelder's Grant, ME | 2,500' |
| Starks Mountain | Fryeburg, ME | 1,037' |
| Stone Mountain | Brownfield, ME | 1,624' |
| Streaked Mountain | Hebron, ME | 1,770' |
| Sunday River Whitecap | Newry, ME | 3,335' |
| Mt. Tire'm | Waterford, ME | 1,104' |
| Mt. Tom | Fryeburg, ME | 1,073' |
| Whitecap Mountain | Rumford, ME | 2,214' |
| Mt. Will | Newry, ME | 1,726' |
| Mt. Zircon | Peru, ME | 2,150' |
Central Maine
Hancock County
| | | |
| --- | --- | --- |
| Acadia Mountain | Mount Desert, ME | 681' |
| Bald Mountain | Dedham, ME | 1,261' |
| Bald Peak | Mount Desert, ME | 971' |
| Beech Mountain | Mount Desert, ME | 839' |
| The Beehive | Bar Harbor, ME | 540' |
| Blue Hill | Blue Hill, ME | 934' |
| North Bubble | Mount Desert, ME | 872' |
| South Bubble | Mount Desert, ME | 768' |
| Cadillac Mountain | Bar Harbor, ME | 1,530' |
| Cedar Swamp Mountain | Mount Desert, ME | 942' |
| Champlain Mountain | Bar Harbor, ME | 1,058' |
| Conners Nubble | Bar Harbor, ME | 591' |
| Day Mountain | Mount Desert, ME | 583' |
| Dorr Mountain | Bar Harbor, ME | 1,270' |
| Eagles Crag | Mount Desert, ME | 702' |
| Elliot Mountain | Mount Desert, ME | 456' |
| Flying Mountain | Southwest Harbor, ME | 284' |
| Gilmore Peak | Mount Desert, ME | 1,030' |
| Gorham Mountain | Bar Harbor, ME | 525' |
| Great Hill | Bar Harbor, ME | 552' |
| Great Pond Mountain | Orland, ME | 1,030' |
| Halfway Mountain | Bar Harbor, ME | 500' |
| Huguenot Head | Bar Harbor, ME | 730' |
| Mansell Mountain | Mount Desert, ME | 949' |
| Norumbega Mountain | Mount Desert, ME | 852' |
| Parkman Mountain | Mount Desert, ME | 941' |
| Pemetic Mountain | Bar Harbor, ME | 1,247' |
| Penobscot Mountain | Mount Desert, ME | 1,196' |
| Sargent Mountain | Mount Desert, ME | 1,373' |
| St. Sauveur Mountain | Mount Desert, ME | 690' |
| Schoodic Mountain | T9SD, ME | 1,069' |
| Tunk Mountain | T10SD, ME | 1,157' |
Kennebec County
Knox County
| | | |
| --- | --- | --- |
| Bald Mountain | Camden, ME | 1,280' |
| Bald Rock Mountain | Camden, ME | 1,100' |
| Mt. Battie | Camden, ME | 800' |
| Beech Hill | Rockport, ME | 533' |
| Mt. Megunticook | Camden, ME | 1,385' |
| Ragged Mountain | Camden, ME | 1,310' |
| Spruce Mountain (East Peak) | Rockport, ME | 835' |
Somerset County
| | | |
| --- | --- | --- |
| Bigelow Mountain (Avery Peak) | Dead River, ME | 4,088' |
| Bigelow Mountain (West Peak) | Dead River, ME | 4,145' |
| Boundary Bald Mountain | Bald Mountain, ME | 3,640' |
| Coburn Mountain | Upper Enchanted, ME | 3,717' |
| Moxie Mountain | Caratunk, ME | 2,930' |
Waldo County
Northern Maine
Aroostook County
Piscataquis County
| | | |
| --- | --- | --- |
| North Brother | T6 R10, ME | 4,151' |
| South Brother | T3 R10, ME | 3,970' |
| Burnt Mountain | Nesourdnahunk, ME | 1,793' |
| Mt. Coe | T3 R10, ME | 3,795' |
| Doubletop Mountain | T3 R10, ME | 3,489' |
| Fort Mountain | T6 R10, ME | 3,867' |
| Mt. Katahdin (Baxter Peak) | Mt. Katahdin, ME | 5,267' |
| Mt. Katahdin (Chimney Peak) | Mt. Katahdin, ME | 4,910' |
| Mt. Katahdin (Hamlin Peak) | Mt. Katahdin, ME | 4,756' |
| Mt. Katahdin (Pamola) | Mt. Katahdin, ME | 4,919' |
| Mt. Katahdin (South Peak) | Mt. Katahdin, ME | 5,240' |
| The Owl | T3 R10, ME | 3,736' |
| Big Spencer Mountain | T2 R3 Wels, ME | 3,206' |
| Big Squaw Mountain | T2 R6, ME | 3,196' |
| Trout Brook Mountain | T6 R9, ME | 1,767' |
| South Turner Mountain | Mt. Katahdin, ME | 3,122' |